DAVE: Real Life Among The Amish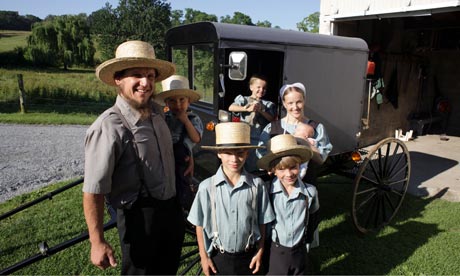 I've just finished watching Amish: A Secret Life on iPlayer.  It's the kind of thing I only tend to watch when I can't sleep.  I expected to see interesting, quaint, old-fashioned ways of living.  Perhaps to get bored and switch off before the end.  But I didn't expect to be so touched.
David and Miriam Lapp are old-order Amish.  They drive a horse and cart instead of a car. They wear distinctive, dark clothes.  They don't have electricity in their house, though they do have a phone in a 'shanny' (shed) at the end of their drive.  They are shooting for ten children.  
Strictly speaking, they shouldn't have allowed a film crew into their lives.  If (probably when) the elders of the community find out, they may be excommunicated.  If (probably when) the elders discover some of the other things they are up to, that may not go well either.
They have a clear and deep respect for the old Amish community and way of life, with all its well-intentioned but burdensome rules.  But what becomes increasingly clear as the programme goes on is that they have a far deeper love for Jesus Christ.
Especially if you are a Christian, can I encourage you to take an hour out of watching the Olympics to see what it's like living for Jesus in a people group so closed to the outside that sharing the love of Jesus can only really come from inside the community.
It's good stuff.
Amish: A Secret Life is available on BBC iPlayer for viewers in the UK until 17th August 2012.
kingoflove21vher likes this
knittergirl80 likes this
twomackies posted this